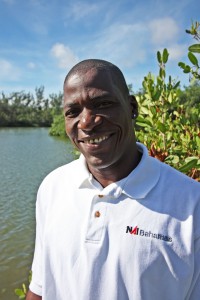 Silvina Andrews is Bahamas Realty's Overall Top Producer for 2012 with Pyper Gordon Pyper as Top Leasing Agent and Sara Parker as Top Producer for Exclusive Listings. James Bernard won the Most Improved Agent title.
Linden Moncur is the new Employee of the Year, chosen from the salaried employees of the 63-year-old company.
"We are very proud of the performance of these top agents, and Linden Moncur who has been with Bahamas Realty nearly all his working life," says Bahamas Realty CEO Larry Roberts.
Overall Top Producer--Silvina Andrews This is the third time Mrs. Andrews, Sales Associate and a Million Dollar Broker, has won Top Producer for Bahamas Realty. She also has won Most Improved Agent. She shares insight into this market and her achievement in a difficult year: "The biggest challenge this past year was simply not having the number of clients that I would usually see through referrals and advertising. With the instability of the market, buyers have difficulty making the commitment. "In this business it's important to work smart and not spread yourself thin. Real Estate is a service industry and clients will remember the entire experience so I take the time to step out of the box and make their experience memorable. Purchasing a home should be fun and exciting so I try very hard to take on the stress so the client doesn't have to. "During these difficult times its also been difficult for buyers to find financing. I've had a couple of experiences this year in the luxury market where financing fell through, but thankfully I have built relationships during my time in this business and with the clients' trust, we managed to make it work. Some good luck is always helpful as well!! "
Silvina, a "Million Dollar Broker", was born and raised in Buenos Aires, Argentina, where she lived until she and her family moved to Canada to complete her education. She joined Bahamas Realty in 1996 and went on to receive her Broker's license in 1999.
Top Producer--Leasing, Pyper Parker Mrs. Pyper Gordon Parker, Broker and Sales Associate, credits "Referrals and relationships" for her outstanding performance. She has won Top Producer in Leasing virtually every year. In 2011 she swept the Top Producer Awards as Top Producer in Sales, Top Producer in Leasing and Most Improved Agent. She explains, " I was just born organized. I give good service and that results in loads of referrals. With three school age daughters, I am the master of multi-tasking."
A California native, she lived there until 1996. She began working at Bahamas Realty in 1999 and has become a consistent Top Producer in Real Estate Sales and Rentals. Pyper is a Certified Real Estate Specialist (CRS) in addition to her BRI qualification. She has also qualified as a Certified International Property Specialist (CIPS). She has maintained a California Real Estate License since 1998, staying current with state requirements and continuing education.
Top Producer--Most Exclusive Listings, Sara Parker Mrs. Sara S. Parker, Broker and Sales Associate, gives credit for her Top Producer of Exclusive Listings Award to "Bahamas Realty NOW," the home and garden style TV show for which she is executive producer and host, about to start its 6th season. "The show airs twice weekly so I am now recognized just about everywhere I go. People remember my name and contact me to list their properties exclusively, which makes them eligible for the MLS and for inclusion in our show."
Mrs. Parker is a "Million Dollar Broker." Born in Missouri, USA, Mrs. Parker has lived in the Bahamas for more than 40 years and has worked with Bahamas Realty since 2006. She is a graduate in Journalism and Home Economics from the University of Missouri, Columbia. Married to noted Olympic Track and Field Coach Keith Holland Parker, MBE, she is a former Associate Editor of "The Bahamas Handbook"; former Real Estate Editor and Special Features Editor of "The Nassau Guardian" and a founding partner of P.S. Advertising and Public Relations.
Most Improved Agent--James C. Bernard Most Improved Agent James C. Bernard, Appraiser and Sales Associate, is a graduate of Virginia Tech University with a Bachelor of Science in Economics and a minor in Real Estate Management. He worked in Washington D.C. with the largest real estate management company in the eastern USA for several years before returning to the Bahamas to continue his real estate career. An avid fisherman, James and his team represented The Bahamas at the IGFA Offshore World Championships in Cabo, Mexico, in 2010 and 2011, bringing home the second place trophy both years, competing against over 70 teams from over 30 different countries. He looks forward to participating again in the 2013 Championship for which he has qualified.
EMPLOYEE OF THE YEAR--Linden Moncur Employee of the Year 2012 Linden Moncur, from Cat Island, started working with Bahamas Realty in 1996 as a painter. "It's hard to define Linden's job. He is a mainstay of the company, always willing to go the extra mile to be helpful to our clients and other employees, " says BRL Director Donnie Martinborough, head of the company's very successful commercial section.
"Achieving Employee of the Year signifies someone very special, highly respected by his fellow staff members. His enthusiasm and work ethic make him a role model and I salute him," said Bahamas Realty President Robin Brownrigg, the nation's leading appraiser. The Bahamas Realty Employee of the Year is chosen from the salaried employees by all the employees of the company. Last year Michelle Fielder won the title.
President Brownrigg, said of the Top Producers, " Silvina and Pyper are both consistent top achievers, leaders in the industry, exemplary in achieving the most well balanced performances of all our agents. Listings are a key component of our business and we congratulate Sara for bringing in so many. We hope other agents will follow her lead. James is a newcomer in sales and we are just amazed at his success in high end properties. I congratulate them all. "
Father James Palacious was guest speaker for BRL's Staff Appreciation event held at The Nassau Yacht Club.
BAHAMAS REALTY'S TOP PRODUCERS 2012--It was "Ladies' Night" at Bahamas Realty's 2012 Staff Appreciation event with all three "Top Producers" being very busy working women. Winners and Company Directors are: (From Left) Director Gordon Wilde; perennial Top Producer --Leasing Pyper Gordon Parker, broker; Overall Top Producer Silvina Andrews, broker; CEO and Director Larry Roberts; President and Director Robin Brownrigg; Top Producer--Most Exclusive Listings Sara S. Parker, broker; and Most Improved Agent James Bernard, appraiser and sales associate.